As physical education teacher education (PETE) programs nationwide experience declining enrollments, there have been many discussions among those in the profession about how to increase enrollment in undergraduate PETE programs.
Through my work as a department chair and program director for an undergraduate PETE program, I have been on the front line of this effort.
I'm very happy to report that in the last two years the size of our PETE program has nearly doubled — and we anticipate another successful recruitment year for Fall 2020.
My institution is located in a geographic area that boasts storied PETE programs, so we knew there would be no quick fix to solving the problem of declining enrollment. Through a multi-pronged approach — which centered around relationship building — we worked diligently to reach our goals.
Here is an outline of the framework we used to increase enrollment in our undergraduate PETE program.
Build Relationships With High School and Transfer Students
Many programs already focus recruitment on high school and transfer students, and this remains a key component of our approach.
We began with the targeted recruitment of high school students and transfer students who expressed interest in the institution.
The first step in building a relationship with future students was generally an email sent by the program director, with follow-ups as application deadlines approached.
On-campus visits, open houses, and accepted student events, organized by our enrollment management office and routinely attended by our faculty, were an important part of our recruitment and relationship-building efforts with prospective and newly enrolled students.
In addition to building relationships with prospective students and highlighting the strengths of our program, department faculty routinely met with the designated enrollment management staff and leaders to ensure continuity of messaging and a strong relationship between the two groups.
We developed articulation agreements with community colleges to ease the burden of transfer students and began new initiatives to generate agreements with public school districts. These efforts created a pipeline of at least 5 to 10 new students per year and make it easier to see clear degree completion requirements.
Raise the Institution's Profile
Another layer in the framework is considering how to increase the profile of the higher education institution. Of course, research by faculty is key, but in a landscape that has turned away from tenured and tenure-track faculty, our department needed to consider alternative pathways.
We began hosting an annual evening event that provides the opportunity for pre-service and in-service teachers as well as administrators and parents to learn from an expert on a relevant and important trend or topic in education. "Education Night" connects in-service and pre-service teachers through professional development.
To build relationships in the classroom and provide highly relevant instruction, we employed highly qualified adjunct instructors who were either current physical educators or recent retirees. Adjuncts who hold a breadth and depth of experience in the profession provide the opportunity for students to learn in class from respected and seasoned professionals. The stories and experiences help the undergraduate students build a relationship with the profession.
In addition to a strong adjunct pool teaching through a variety of delivery methods (face-to-face, reduced seat time, and online), our college-supervisors in the student-teaching experience are a blend of full-time college faculty and retired teachers with strong supervision experiences. Offering students in their culminating experience a college-supervisor with strong supervision experiences and a vast network of educational professionals keeps the cycle of relationship building moving and aids our students in job placements.
Build Partnerships
We also used a modified professional development school model to take our methods courses into schools and build relationships with active members of professional organizations.
Through strategic partnerships our elementary and secondary physical education methods courses are taught in the K-12 environments on a weekly basis. Through these partnerships as well as a variety of other partnerships with community organizations, our teacher-candidates gain a vantage point into school life as well as the opportunity to build their teaching skills. Further, the college benefits by the relationships built with the students.
Strengthening the connection to our professional organization at the chapter level has provided leadership opportunities for our students as well as the opportunity to build relationships with well-regarded K-12 educators.
Raising the visibility of PETE programs and maintaining relationships with a variety of constituents takes a strong commitment from faculty, administrators, and students in both higher education and K-12 institutions.
Maintaining a continued focus on the continuity and connectedness of PK-12 institutions and higher education is a vital link to reversing the downturn in enrollments. There will continue to be challenges with fewer students in the pipeline, but there are solutions to explore in curriculum and innovative models as well.
Higher education and PK-12 education must partner more through strong, strategic relationships. What relationships for your program can be strengthened or developed?
Additional Resources
---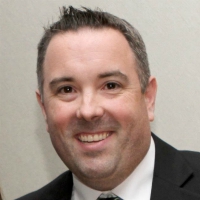 Peter Stapleton
Peter J. Stapleton, Ph.D., currently serves as an assistant professor of physical education and chair of the Department of Professional Education Programs for The Sage Colleges (Albany & Troy, NY). His research interests involve investigating the socialization of students into the profession particularly into Doctoral Physical Education Teacher Education. He also serves the Capital Zone of NYSAHPERD as the Higher Education representative. Follow him on Twitter @P_Stapleton1.